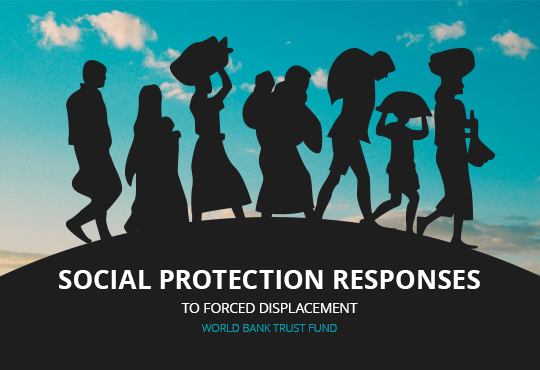 The National Centre for Social Research (ΕΚΚΕ) participates as a partner in the international research project titled "Social Protection responses to Forced Displacement", which is funded by the World Bank. This research project is coordinated by the Overseas Development Institute (ODI) (UK), with a partnership composed by EKKE in Greece; the University of Los Andes, School of Government in Colombia, and the Center for Applied Social Sciences Research and Training (CASS-RT) in Cameroon.
The project will be implemented in three countries from three different continents, which are characterized by different levels of economic development (high, medium, low); maturity of the social protection system, and profiles of displaced population (refugees, asylum seekers, internally displaced populations). For Greece (a country with a high level of economic development and a mature social protection system), the research will be carried out in Attica and Epirus regions with the following target groups: refugees / asylum seekers and the host population, divided into two sub-groups, namely: (a) persons receiving any kind of assistance through the humanitarian aid system and/ or through the social protection system, and (b) persons receiving no assistance / contribution.
The goal of the project is to develop theory, evidence-based documentation, and operational guidance on how the social protection and humanitarian aid systems can best assist vulnerable and/ or displaced populations within a country. In addition, it aims to study the possibility of integration between these two systems, in order to optimize the provision of support to the aforementioned populations.
DETAILED INFORMATION
PROJECT LEADER:

Overseas Development Institute (ODI) (UK)

PARTNERS:

Overseas Development Institute (ODI) (UK), National Center of Social Research (ΕΚΚΕ), University of Los Andes, School of Government (Colombia), Centre for Applied Social Sciences Research and Training (CASS-RT) (Cameroon)

BUDGET:

137.774 USD

FUNDING CATEGORY:

Funded

FUNDING AGENCY:

World Bank

SCIENTIFIC COORDINATOR:

Tramountanis A.

SCIENTIFIC JOINTLY COORDINATOR:

Linardis A.

PROJECT TEAM:

Georgakakou Eleni, Gerakopoulou Patricia, Kapella Antoinetta, Karanikas Evangelos, Kikilias Elias, Kondyli Dimitra, Mouriki Aliki, Papadopoulos Apostolos, Papaliou Olga, Varouxi Christina

YEAR START:

2020

DURATION IN MONTHS:

14
RETURN TO LIST