Seminar on: "Social Protection and Social Integration of Displaced Populations in Greece today"
08/04/2022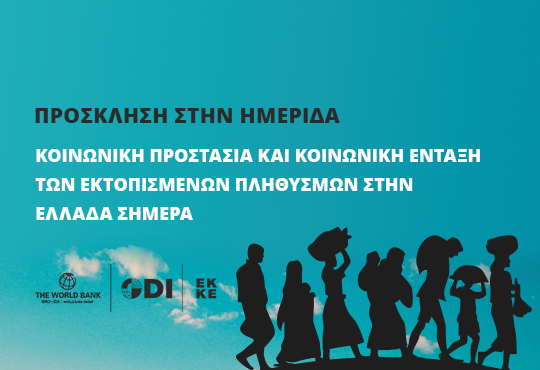 The National Centre for Social Research is organising a conference on Thursday 14 April on the presentation of the results of the research project "Social Protection responses to Forced Displacement".
The research project is funded by the World Bank, and is coordinated by the Overseas Development Institute (ODI) (UK). Project Partners are: EKKE in Greece, the University of Los Andes, School of Government in Colombia and the Centre for Applied Social Sciences Research and Training (CASS-RT) in Cameroon.
The hybrid seminar will take place on Thursday 14 April, between 10:00 and 14:00.
The invitation and the agenda of the seminar are available
here
More
info
about the project.

Link
RETURN TO LIST